F.A.S.T. Speed School will focus on providing top-level sports performance training for individuals as well as team and organizations. The school is staffed by certified personal trainers, F.A.S.T. Speed School coaches, many with Division I playing experience.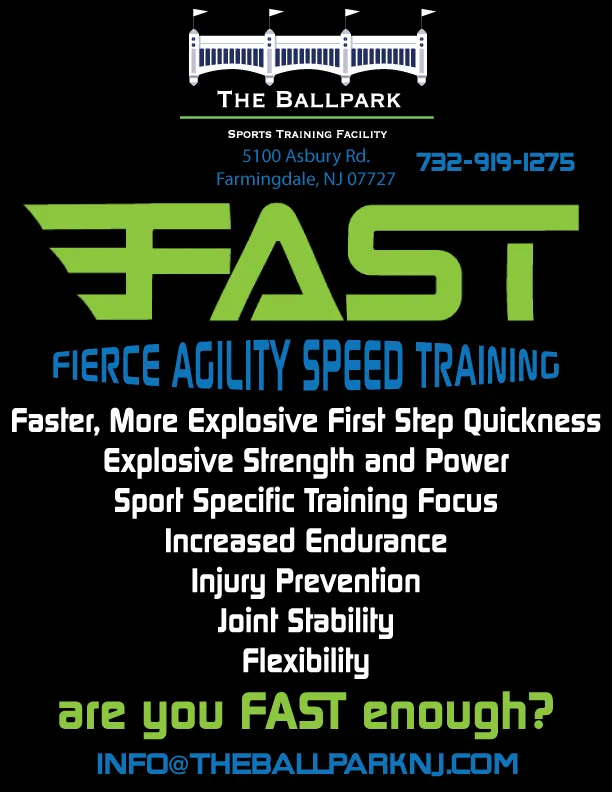 F.A.S.T. SPEED SCHOOL MISSION
All athletes want to improve performance in their sport. Through workouts, serious athletes try to gain a competitive edge, striving for increased strength and speed.
However, many programs currently being utilized are actually impacting performance negatively. Common trainers often emphasize performance in the gym without consideration to what will actually help an athlete perform and stay healthy on the field of play. The craze of training has in many cases caused more harm than good as athletes are getting injured in alarming rates. The reason is simple. Many trainers view athletic training as a race to the finish line instead of a steady plan for development.
Often, athletes are partaking in training programs that do NOT match their level of fitness and expertise and do NOT develop all aspects of athletics. Many trainers use a single method of training that often matches the sport they once played. Many others opt to exclusively use weight training as the only means for development. Unfortunately, there is often a lack of a sensible plan that moves an individual from a base level to eventually an elite level athlete.
F.A.S.T. Speed School is designed to take all variables into account as we try to develop the athlete at the appropriate pace, leading to long term health and success. Under the direction of Rich Dalatri, the aim is to develop athletes from a base level and increase their work load sensibly in order to reach maximum potential. The goal is to teach young athletes the how, why and when of training that matches their sports' needs. Having a professionally designed progression training program is critically important in order to provide an athlete an opportunity to compete at their highest individual level.
At F.A.S.T. Speed School, we emphasize complete athletic development with each component of training designed and planned with the young athlete in mind. The aim is to train, teach and properly emphasize a correct method of training.
OUR PROGRAMS
ROOKIE
– for the young, beginner athlete
Our entry level athletic performance group will focus on all basic characteristics a player needs to set a strong foundation for growth. The main goal is to have these athletes grow in body awareness, coordination and body control. Areas of focus will include flexibility, balance, basic foot and movement patterns as well as basic large muscle strengthening using mostly body weigh exercises. The initial level is a crucial step in creating a foundation for athletic performance, fitness and health. Training time: 40 – 45 minutes/session; Max session size – 16 athletes; Cost $159
ADVANCED – the next level of training for the developing athlete
Upon completing the initial level of training, the athlete will have better body control and awareness that will allow for next level foot speed and movement drills. Overall body strengthening will be emphasized with an introduction to medicine ball, bands along with light cable and dumbbell exercises. Foot speed and movement drills will include multi-direction drills to increase agility and overall athleticism. Development during this phase will aid in alleviating imbalances in strength, movement and flexibility which often can lead to injury. Athletes completing this phase will begin to see a significant advance in athleticism that will give them an edge in competition. Training time: 50-60 minutes/session; Max session size – 12 athletes; Cost $199
F.A.S.T. PLATINUM – the elite phase of our program designed for high level high school and college athletes
Athletes in the elite phase of our program will now push themselves in all areas of athletic development. Workouts will include higher intensity and increased volume. Exercises in all modes of training will be more complex and utilize advanced motions. Weight training for all areas of the body will be used in accordance with the most advanced and up to date methods of athletic development training. This phase continues to emphasize overall health and wellness to keep players on the field and competing. Only those who have successfully completed the first two phases of training will be moved to this phase of development Training time: 70 – 90 minutes/session; Max session size – 8 athletes; Cost $269
All levels are 5 weeks and have scheduled days/times that meet twice per week.
SMALL GROUP TRAINING
Once your assessment is completed you will partner with other athletes in our program of similar skill, ability and age. This small group setting will allow for maximum improvement and individual development at an intense pace. In addition, we also allow the creation of your own groups (friends, teammates, etc.) Email [email protected] for more information
INDIVIDUAL TRAINING
Many athletes benefit with intense individualized sessions that focus specifically on their weaknesses. These sessions will be 1 on 1 between athlete and one of our Sports Performance Coaches.  Email [email protected] for more information
TEAM TRAINING
OUR FIVE PRINCIPLES OF TEAM TRAINING ESS5 TEAM COMPONENTS ARE:
Team Warm-up – The foundation of ESS5 Team, this warm-up focuses on sport specific exercises and staged out moves during active muscular movement to increase core body temperature and flow of blood throughout the body.
Team Skill Movements – This part has four areas of development:

Acceleration
Deceleration
Change of Direction
Max Speed

Strength and Explosiveness – This segment targets the central nervous system and muscular systems in order to enhance power, speed and stabilization throughout the athletes body.
Team Conditioning – This component is focused on athletes who want to reach their peak performance and may not believe they have it in them. Pushing past previous limits is part of the way we achieve top conditioning.
Team & Individual Confidence – We build a structure where we build confidence within our athletes. With confidence athletes can achieve more than they believe is possible.
Allow our Sports Performance Coaches to work with your entire Team. We will customize a program that meets your entire team needs and goals. We will also perform this training at your location if needed.  Email [email protected] for more information
SUMMER CAMP-F.A.S.T. Speed, Conditioning & Leadership Camp
At F.A.S.T. Speed School Camp, we will deliver a week where young people improve fitness, build character, develop speed while increasing confidence. F.A.S.T. campers will learn how to train like Elite Athletes, live a healthy lifestyle and always feel good about themselves. F.A.S.T. Speed School prides itself on making all of our athletes Stronger, Faster, and Better in all aspects of physical fitness.
Each week of camp we will provide our campers the tools and foundation for success both on and off the field. Each camper will receive an athletic assessment at end of camp.
** No camp July 4th
All Speed & Conditioning campers will receive an Athlete Evaluation and Training shirt included with registration.
July 2nd- 6th (no 4th)
Time: 9am-12noon
July 9th- 13th
Time: 9am-12noon
July 16th- 20th
Time: 9am-12noon
July 30th- August 3rd
Time: 9am-12noon
August 6th- 10th
Time: 9am-12noon
For more Information, contact us by filling out the form below!